GVE is now offering uniform t-shirts! These t-shirts can be worn every day with traditional khaki bottoms. All Glen View t-shirts from previous years will be considered "spirit shirts" and can be worn on Fridays. Please note that these uniform t-shirts are NOT required. Students may wear red, black, or white polos with khakis as usual. Deadline to order- Sunday, August 8 Pickup at school scheduled for Monday, August 16. Here is the link to order our new uniform t-shirts and sweatshirts!
https://glen-view-newuniformshirts.itemorder.com/sale
Hello, Gator Family! Due to the small number of car riders today, we will only have one car line. Both Carline A and Carline B can line up at 2:38.
Parents/Guardians, As Award Day celebrations approach this week, I wanted to remind you that, due to COVID restrictions, we must limit the number of people who can be in the gym. Everyone who attends the award celebrations MUST have a ticket. Each GVE student has received two tickets, and EVERYONE who attends, including younger brothers and sisters, must have a ticket in order to be admitted. We will not replace lost tickets. We will have seats marked on the bleachers in order to socially distance attendees, and we ask that you respect these markings and sit in the indicated places. We are looking forward to seeing everyone at these events!
Parents/guardians, if your child has received a letter for summer school, all summer school forms are due tomorrow, Wednesday, May 5. No forms will be accepted after tomorrow. Space is limited for summer school, so if you were offered a spot, I would highly recommend that you take it! Not all students qualified for summer school, and letters were only sent to those students who qualified. Please let us know if you have any questions! Dr. Nugent, Principal
Great news, parents! The link to order the yearbook is back up and running!
https://shop.yearbookmarket.com/glenviewelementaryschool
Also, Portraits Plus has extended our deadline until this Friday! We will be sending home a flyer for you as well, in case you'd like to pay with cash or a check. Please expect to receive these flyers either today or tomorrow in your child's folder. Please let us know if you have any questions! Dr. Nugent
Good morning, Gator Family! It's time to order 2020-2021 yearbooks! You can order these online at the link below. Please note that no orders will be taken at the school due to COVID restrictions. Here's the link!
https://shop.yearbookmarket.com/glenviewelementaryschool
Please let us know if you have any questions! Happy Monday!
Happy Friday, Gator Family! Just a reminder that Spring pictures will be taken next Wednesday, April 14. If you choose to purchase pictures, your child will be allowed to wear "regular" clothes that day to school. They can also change into a school uniform after taking pictures if you'd prefer. If you are not purchasing pictures, then your child should wear a school uniform that day. All money for spring pictures MUST be sent in by Tuesday. No money will be accepted on Wednesday. Virtual students, you may also take pictures on this day. Please call the school if you have any questions, and please contact your child's teacher if you need another order form. Have a great weekend! Dr. Nugent
Hello, Gator Family! Just a reminder that students are allowed to wear green shirts and jeans tomorrow (Wednesday, March 17). Thanks! Sheila Nugent, Principal
I'm trying again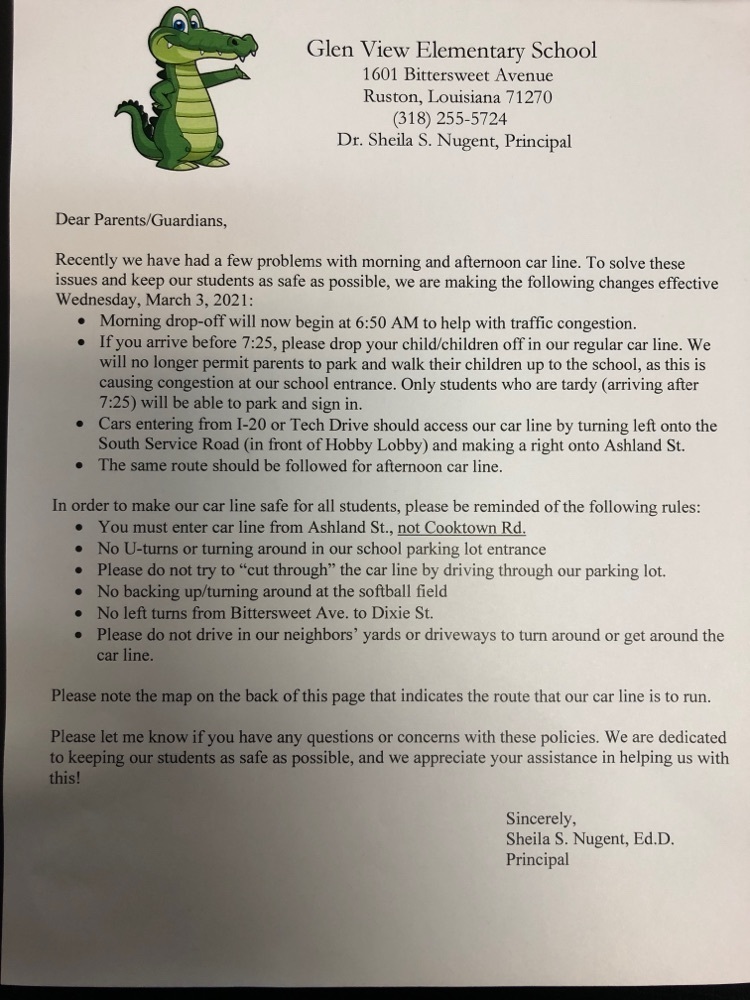 Here is the car line map
Here is the letter!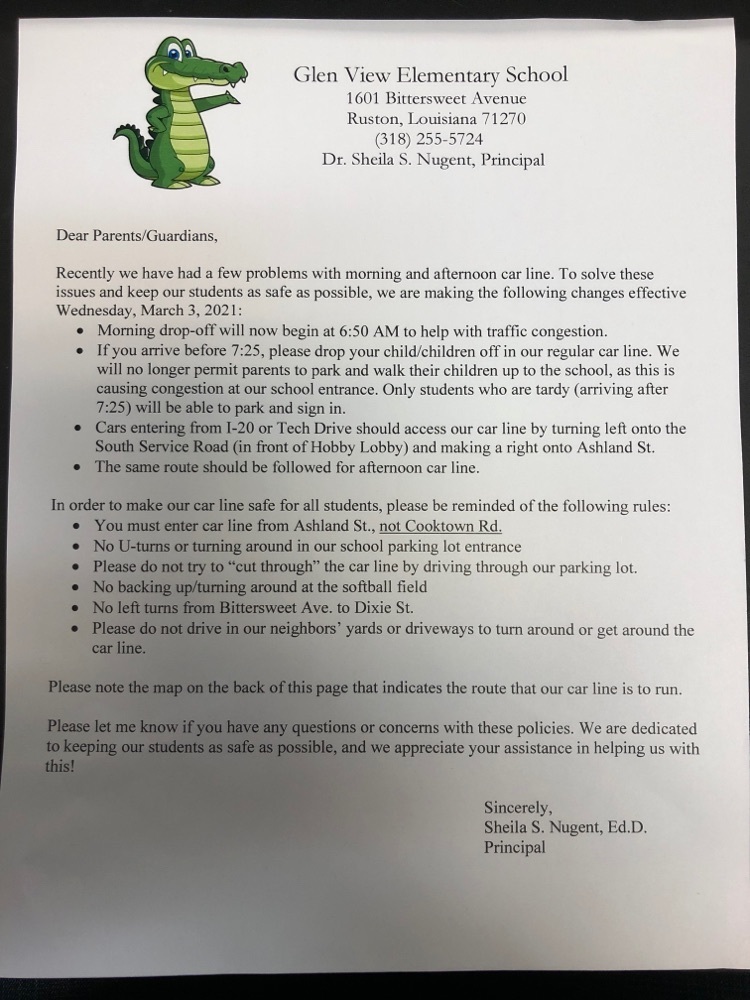 Dear Gator Family, Recently we have had a few problems with morning and afternoon car line. To keep our students as safe as possible, we are going to make a couple of changes with car line procedures. A VERY important note is being sent home with your child today that outlines these changes. I will also text out this note and the car line map just in case the note gets lost on the way home. :-) We appreciate your assistance in following our car line policies so that our students are safe as they arrive/leave our campus. Please let me know if you have any questions or concerns! Thanks! Sheila Nugent
From the LIncoln Parish School Board: After careful consideration, Lincoln Parish Schools will remain virtual Monday, February 22. Rural roads and side streets still appear hazardous at this time. Gator Family, please stay safe! We will see you on Tuesday!
Hello, Gator family! Due to the winter weather scheduled for the remainder of the week, Glen View will remain closed through Friday, February 19, and will reopen Monday, February 22. We will continue with our at-home learning during this time. Please continue to complete the assignments that we sent home on Friday, and Zearn, Epic, and ARC Bookshelf are also available. Please contact me at
snugent@lincolnschools.org
if you have any questions or need any additional information. I hope that you are all safe and warm and that lots of wonderful memories are being made! Sincerely, Sheila Nugent, Principal Glen View Elementary

Lincoln Parish Schools will be closed Monday, January 11, due to winter weather conditions. Student assignments can be found on Google Classroom, or some were sent home by teachers on Friday. Enjoy the snow and be safe! Classes will resume on Tuesday, January 12, and students in grades 7-12 will be on the B schedule for Tuesday. Ricky Durret Superintendent Lincoln Parish Schools
A note to clarify... Glen View is NOT closing for COVID. :-) We are just trying to be prepared for whatever the future holds! :-) Thanks so much for all of your support, Gator Family!
Parents/Guardians, All students have been set up on Google Classroom. If you have not logged your child on, please do so by the end of the week. This is just to help prepare JUST IN CASE you have to quarantine or if we have a shutdown later in the year. Hopefully these preparations won't be needed! If you don't have the login information for Google Classroom, please contact your child's teacher.
Parents/Guardians, please help us know how to assist you better with at-home learning by filling out this very short survey! Here is the link:
http://www.surveymonkey.com/r/SLW33YJ
Thanks for helping us with this!