Happy Friday, Gator Family! Just a reminder that Spring pictures will be taken next Wednesday, April 14. If you choose to purchase pictures, your child will be allowed to wear "regular" clothes that day to school. They can also change into a school uniform after taking pictures if you'd prefer. If you are not purchasing pictures, then your child should wear a school uniform that day. All money for spring pictures MUST be sent in by Tuesday. No money will be accepted on Wednesday. Virtual students, you may also take pictures on this day. Please call the school if you have any questions, and please contact your child's teacher if you need another order form. Have a great weekend! Dr. Nugent
Hello, Gator Family! Just a reminder that students are allowed to wear green shirts and jeans tomorrow (Wednesday, March 17). Thanks! Sheila Nugent, Principal
I'm trying again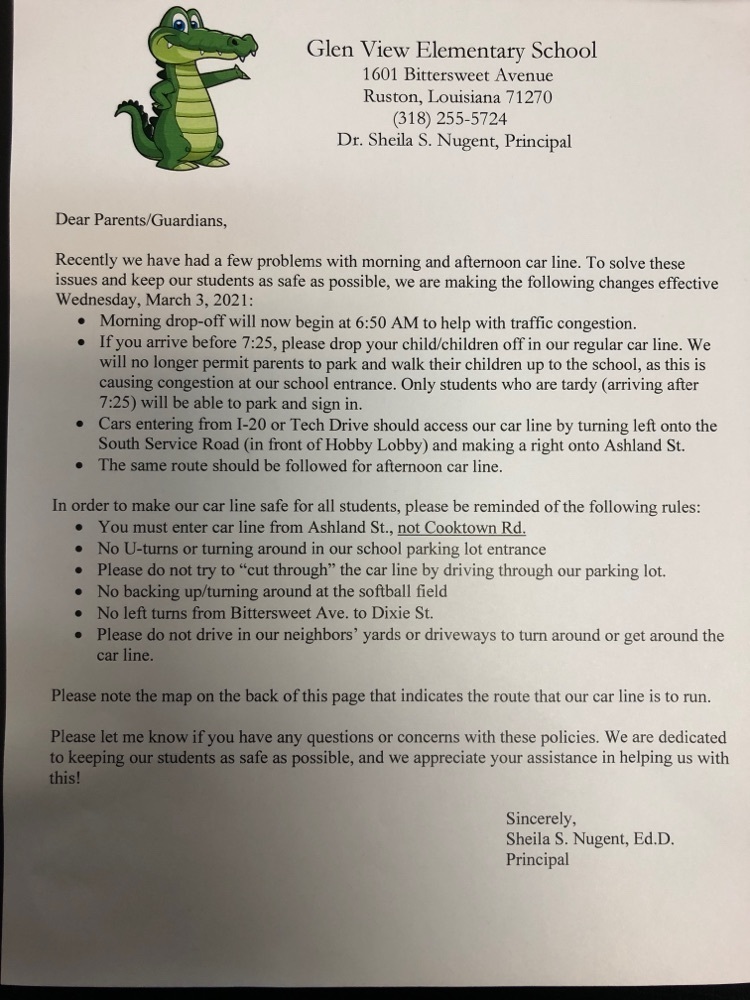 Here is the car line map
Here is the letter!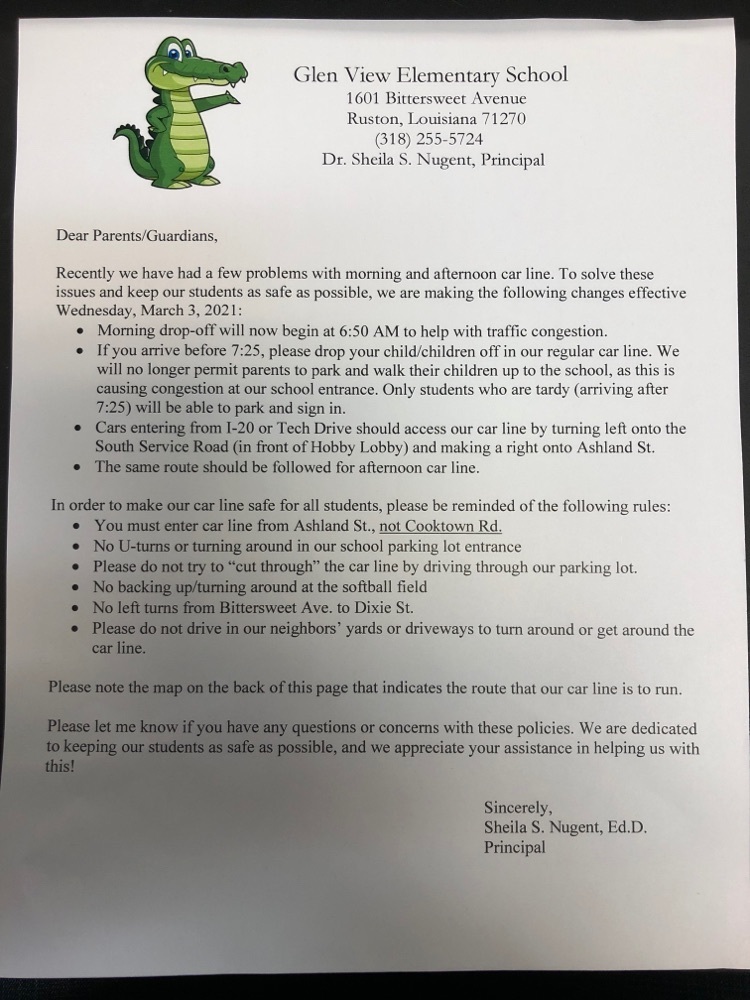 Dear Gator Family, Recently we have had a few problems with morning and afternoon car line. To keep our students as safe as possible, we are going to make a couple of changes with car line procedures. A VERY important note is being sent home with your child today that outlines these changes. I will also text out this note and the car line map just in case the note gets lost on the way home. :-) We appreciate your assistance in following our car line policies so that our students are safe as they arrive/leave our campus. Please let me know if you have any questions or concerns! Thanks! Sheila Nugent
From the LIncoln Parish School Board: After careful consideration, Lincoln Parish Schools will remain virtual Monday, February 22. Rural roads and side streets still appear hazardous at this time. Gator Family, please stay safe! We will see you on Tuesday!
Hello, Gator family! Due to the winter weather scheduled for the remainder of the week, Glen View will remain closed through Friday, February 19, and will reopen Monday, February 22. We will continue with our at-home learning during this time. Please continue to complete the assignments that we sent home on Friday, and Zearn, Epic, and ARC Bookshelf are also available. Please contact me at
snugent@lincolnschools.org
if you have any questions or need any additional information. I hope that you are all safe and warm and that lots of wonderful memories are being made! Sincerely, Sheila Nugent, Principal Glen View Elementary

Lincoln Parish Schools will be closed Monday, January 11, due to winter weather conditions. Student assignments can be found on Google Classroom, or some were sent home by teachers on Friday. Enjoy the snow and be safe! Classes will resume on Tuesday, January 12, and students in grades 7-12 will be on the B schedule for Tuesday. Ricky Durret Superintendent Lincoln Parish Schools
A note to clarify... Glen View is NOT closing for COVID. :-) We are just trying to be prepared for whatever the future holds! :-) Thanks so much for all of your support, Gator Family!
Parents/Guardians, All students have been set up on Google Classroom. If you have not logged your child on, please do so by the end of the week. This is just to help prepare JUST IN CASE you have to quarantine or if we have a shutdown later in the year. Hopefully these preparations won't be needed! If you don't have the login information for Google Classroom, please contact your child's teacher.
Parents/Guardians, please help us know how to assist you better with at-home learning by filling out this very short survey! Here is the link:
http://www.surveymonkey.com/r/SLW33YJ
Thanks for helping us with this!
Parents, just a reminder that we will not have school tomorrow due to Election Day. We will see everyone on Wednesday!
Just a reminder to our parents that we have fall break on Oct. 12-14, so we will not have school on those days. We WILL have school tomorrow (Oct. 9), and then after our fall break, we will return to school on Thursday, Oct. 15. Have a safe, wonderful break!
A reminder for parents of students returning from virtual instruction: Students that are returning from Virtual that have never ridden a bus before, like Kindergarten students or any students that have moved since last year, must go to the school board office and get a bus assignment.
Dear Parents, On October 5-7, virtual students will have the opportunity to return to face-to-face instruction. Virtual Kindergarten returns on Oct. 5 Virtual First grade returns on Oct. 6. Virtual Second grade returns on Oct.7. If virtual students would like to return on that date, they may do so. If a virtual student does not return by October 7, then it will be January 11th before that student can return. We will continue following strict protocols for sanitation and social distancing. Our students and teachers at GVE have been doing an amazing job with all that's being asked of them during these unprecedented times. Thank you for your continued support of Glen View Elementary!

Pandemic Electronic Benefit Transfer (P-EBT) Program | Louisiana Department of Children & Family Services Louisiana Reopens 2019-2020 P-EBT Application for Families Who Did Not Apply in May and June Families Who Received P-EBT during the May-June Application Period are NOT Eligible The P-EBT program provides help buying groceries for the families of children who were receiving free and reduced-price meals at school last school year. These one-time benefits are $285 per eligible child. This covers 50 school days missed from statewide school closures during the pandemic. Some parents became eligible for free and reduced lunch in May 2020. They would receive $91.20 per eligible child, which covers the cost of meals for 16 school days in May. The initial PEBT application period closed on June 15, 2020, and served 407,800 children. This second application period is aimed at the 264,111 children who qualified but did not receive PEBT the first time.
http://www.dcfs.louisiana.gov/page/pebt-program
All students in LP are eligible for free breakfast and lunch during school days until December 31, 2020 or money runs out.